Fire Features: Creating a Cozy Backyard Retreat for All Seasons
Imagine spending a crisp autumn evening, the warmth of a fire feature creating a comfortable atmosphere as you gather with loved ones in your backyard. At Texas Outdoor Oasis, we believe that fire features are key to transforming a backyard into a cozy retreat that can be enjoyed all year round. They not only provide warmth on colder nights, but also serve as a focal point for outdoor gatherings. This post explores how fire features can create a cozy backyard retreat for all seasons.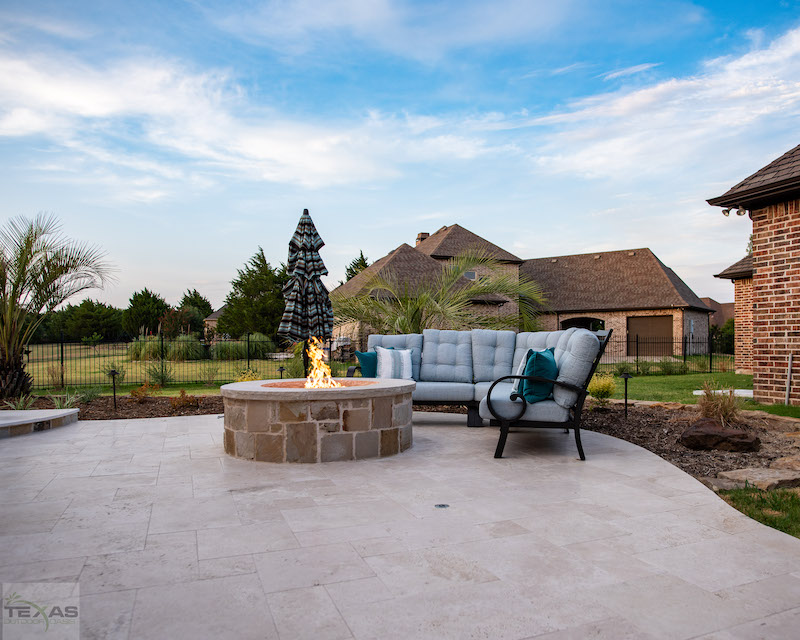 Enhancing Aesthetic Appeal
A well-placed fire feature can dramatically elevate the aesthetic appeal of your outdoor space. From traditional fire pits to modern fire tables or outdoor fireplaces, there's a design that can complement any backyard style. Fire features create a captivating visual element, adding an enchanting glow that transforms the ambiance of your outdoor space, making it feel warm and welcoming.
Year-Round Entertainment
One of the main benefits of fire features is their ability to extend the usability of your outdoor space into the colder months. In the heart of winter, a warm fire can make your backyard a preferred spot for gathering, conversing, and enjoying the outdoor scenery. During the summer, they provide a perfect place for evening get-togethers after the sun sets and the temperature drops. Thus, a fire feature ensures your backyard retreat can be used and enjoyed all year round.
Adding Functionality and Comfort
Fire features can be designed to serve multiple purposes. For instance, a fire pit can double as a grill for impromptu BBQs, and a fire table provides a surface for guests to place drinks or snacks. More than that, the warmth emitted by fire features creates a comfortable environment, allowing you to cozy up with a good book or simply relax and unwind under the stars.
Boosting Property Value
In addition to enhancing your living experience, a beautifully designed fire feature can increase the value of your property. They are highly sought after in today's real estate market, with many prospective homeowners looking for unique outdoor elements that create a "staycation" feel. When the time comes to sell, a fire feature can be an enticing selling point that sets your home apart.
Safety Considerations
While fire features bring many benefits, it's crucial to remember the importance of safety. It's important to keep a safe distance from structures or vegetation, use appropriate fire-resistant materials, and ensure a fire extinguisher or water source is nearby. At Texas Outdoor Oasis, we prioritize safety in all our installations, ensuring your fire feature brings you joy without worry.
Fire features are a worthwhile investment that can transform your backyard into a cozy retreat, enhancing the aesthetic appeal, functionality, and value of your property. At Texas Outdoor Oasis, our team is ready to help you design and install the perfect fire feature for your outdoor space, one that complements your style and meets your needs.
Take your outdoor living to the next level with a fire feature that ensures you can enjoy your backyard oasis in all seasons. Contact us today and let's start turning your outdoor space into the cozy retreat you've always wanted.