Consider a Custom Outdoor Fireplace!
There's nothing quite like a warm crackling custom outdoor fireplace on a cold, winter night. The familiar atmosphere, the bright glow of the fire, the stars in the sky, and your friends or family seated comfortably around it with a glass of wine or a cup of hot chocolate is picture perfect.  Outdoor fireplaces come in a wide variety of styles, and if you're considering adding a custom outdoor fireplace to your home, then let the experts at Texas Outdoor Oasis help you with your planning and designing needs!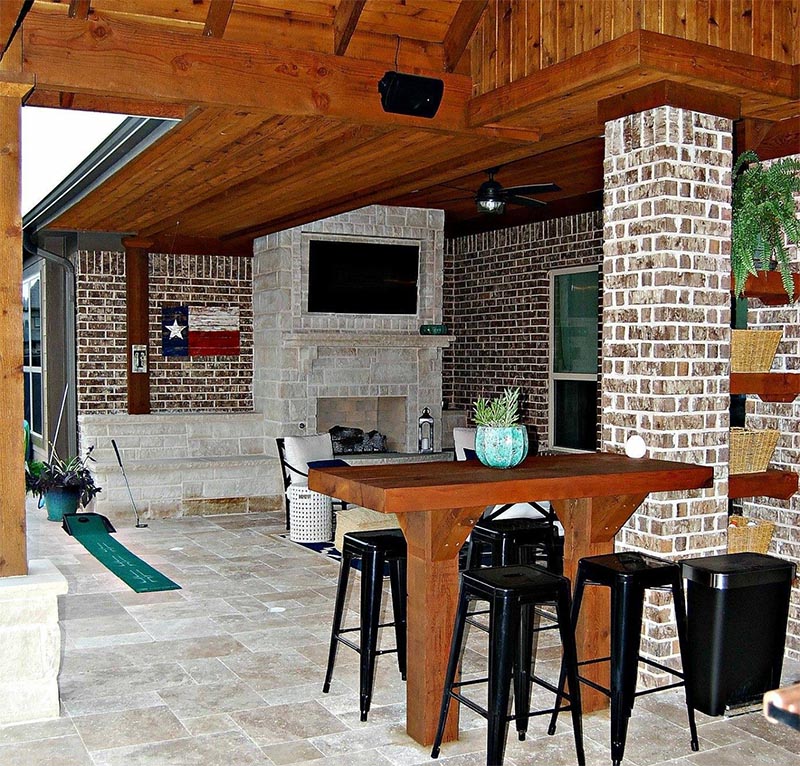 Our photo gallery showcases some of our previous work and it could give you an idea as to what you're looking for. We work with all different types of tile, stone, and brick and there's no job too big or too small.  Close your eyes and just imagine the memories that could me made with friends, family, or coworkers at your home, as you laugh, visit and enjoy yourself around the warm heated glow of a toasty log fire. For the men, imagine watching that playoff ballgame with your buddies on the large flat screen tv that hangs above the mantel. And for you ladies, envision having some of the girls over for a movie night with a bottle of wine and a popcorn!
We at Texas Outdoor Oasis would love to help you design your outdoor fireplace.  Our team is a dedicated and friendly group that loves the outdoors as much as you do and they would love to help you design the fireplace of your dreams and make your back porch or yard the envy of the neighborhood! Should you have any questions, don't hesitate to contact us!