Amazing Outdoor Kitchens: 6 Appliances To Get Besides the Grill
When you think about building an outdoor kitchen, the grill is bound to be the first appliance on your mind. While it may be the most important, you can make it even better by thinking about what else you want to go along with it. Figuring out how you'll use your kitchen is a key question in the design process, and these additional appliances will create an amazing space for family fun and entertaining.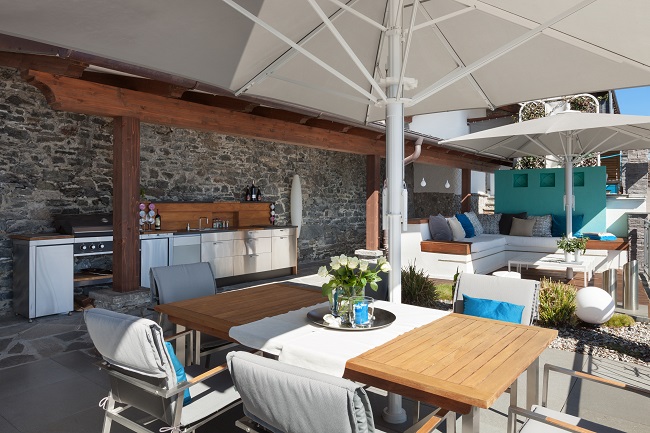 Pizza Oven:
Say goodbye to sitting around hungry waiting for the pizza delivery person to arrive. This popular appliance for custom outdoor kitchens will let you and your loved ones make your own pies, as well as many other recipes. Add in some handy counter space, and you'll have a prep area for pizza, bread, potato chips or fish.
Side Burners:
A separate side burner will make quick work out of those extra tasks you can do while you're grilling. Maybe you just want to boil water or you're grilling a variety of meats and vegetables that need different surfaces.
Griddle:
Pancakes aren't the only things that are lighter and fluffier when cooked on a griddle. Delight your guests with all kinds of special sandwiches and burgers.
Sink:
Whether you're cooking for your own family or throwing big parties, an outdoor sink also makes your life easier. Working with a professional can help you sort out the details for feeding the faucet and drainage. Then, you can enjoy the convenience of being able to wash your hands or rinse off salad greens without making multiple trips indoors.
Ice Maker:
Do you love running to the store for more ice and carrying heavy wet bags home? Your own ice maker will give you an endless supply.
Dishwasher:
When the festivities are over, you can relax knowing that clean up will be a breeze. Load the dirty dishes as you go along so you can wake up to a tidy sink and counters.
Texas Outdoor Oasis is your source for custom pools, outdoor kitchens, and more. Contact us today to see how we can take the hassle out of designing your home's exterior.