Custom Outdoor Living Spaces in Poetry!
Whether you have a new home being landscaped for the first time or an over grown and outdated landscape due for a major overhaul Texas Outdoor Oasis can bring your ideas to life. We help you achieve the style, mood, and feel you're looking for with our expert knowledge of plants, grass, flowers, foliage, and more. Our professionals and on-site crews are friendly and easy to work with and help you through the whole process to make sure your vision is achieved.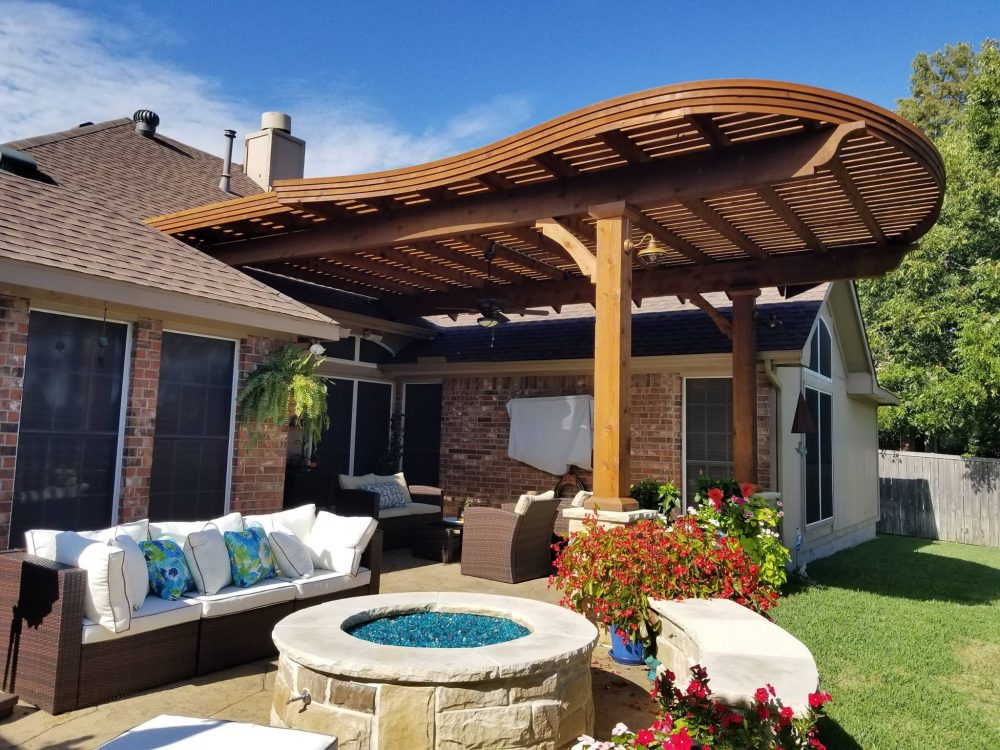 Patio Covers In Poetry, TX
Patio covers provide protection from the weather, and accent your backyard and home while bringing a comfortable atmosphere to spend some time outside. Enjoy the outdoors regardless of what mother nature has in store for the day. We can build the perfect structure for your outdoor entertainment. Read more about our Poetry, TX Patio Covers
Poetry, TX Arbors & Pergolas
We can help you enjoy the outdoors regardless of what mother nature has in store and we can build a structure that fits your style. Our structures can fit any style of home or backyard so have a look through our gallery to find designs that you like or if you don't see it give us a call and we'll custom design the perfect arbor for your backyard. Learn more about our arbors
Decorative Concrete In Poetry, TX
We can design a unique outdoor hardscape with our decorative concrete options. No backyard is complete without a patio. We can design a unique outdoor hardscape with our decorative concrete options. We offer competitive pricing so you can get that custom look for the right price. Click here for more information on decorative concrete in Poetry, TX
Fire Features In Poetry, TX
Enhance your backyard to be comfortable, inviting, and beautiful with an outdoor fireplace. The crackling, the glow, the warmth and the irresistible smell. Nothing comes close to a roaring fire. Texas Outdoor Oasis has fireplaces to make your deck or patio the perfect backyard getaway at night looking at the stars, or an inviting centerpiece to a friends and family get together. Read more about our Poetry, TX fire features
Poetry, TX Landscaping
Who doesn't love the smell of fresh growing flowers when they walk out the door? Landscaping adds that special finishing touch on your outdoor oasis. Whether you need a few trees planted for privacy or a full overhaul, here at Texas Outdoor Oasis we will work with you from design to the final product. We make sure you to get the right style and proper plants to thrive in our Texas atmosphere. Find out more about about Landscaping in Poetry, TX
Poetry, TX Masonry & Stone Work
We have access to all types of natural and pre-cast stone that can be used to bring out and accent the beauty of your home. When mother nature doesn't put stones in places that accent your home or landscape adequately, that's where we come in. For a timeless look that lasts for generations, custom stone work is the way to go. With years of experience working on patios, grills, masonry fire places, fire pits, outdoor kitchens, natural stone waterfalls and more.  Find out more about Stone work in Poetry, TX
Let us help you create your very own backyard oasis! Call us today for an estimate!