Fate Pool Building & Remodeling
Expert Custom Pool Construction & Remodeling in Fate, TX
Texas Outdoor Oasis is the premier destination for Fate pool building and remodeling. With our expertise and commitment to excellence, we transform ordinary backyards into stunning outdoor retreats where you can relax, entertain, and create lasting memories with family and friends. Whether you're looking to build a brand-new pool or revamp your existing one, we have the skills and passion to bring your vision to life.
New Pool Construction in Fate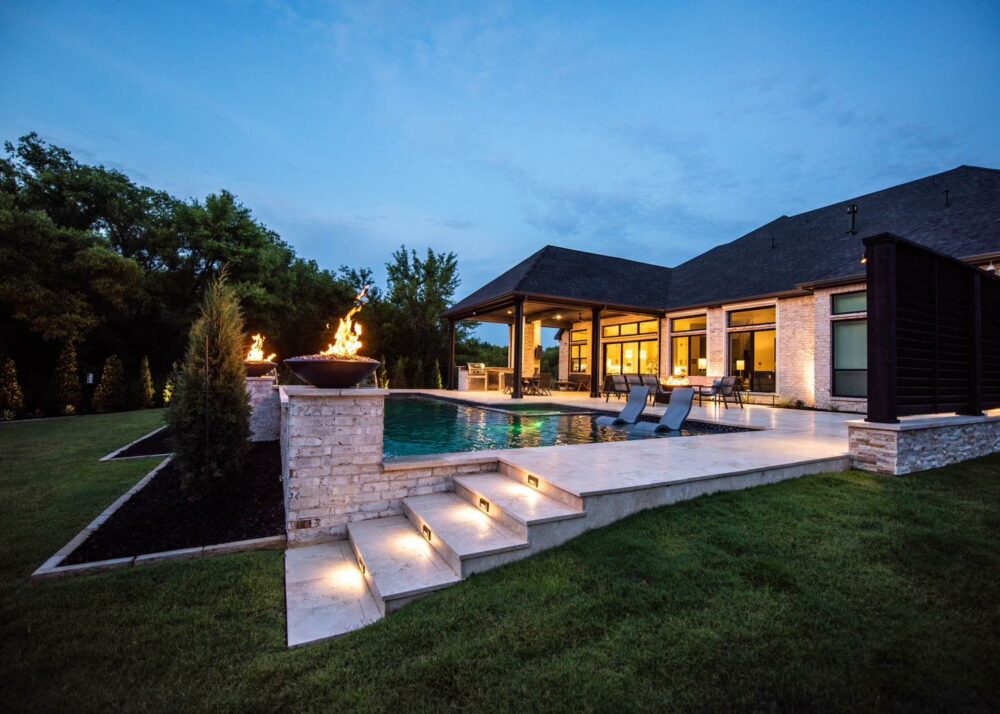 Our experienced team specializes in designing and building custom pools tailored to your specific needs and desires. We work closely with you to understand your preferences, budget, and space requirements, ensuring that your dream pool becomes a reality. From contemporary and sleek designs to natural and serene settings, we can create the perfect oasis for you.
Fate, TX Pool Remodeling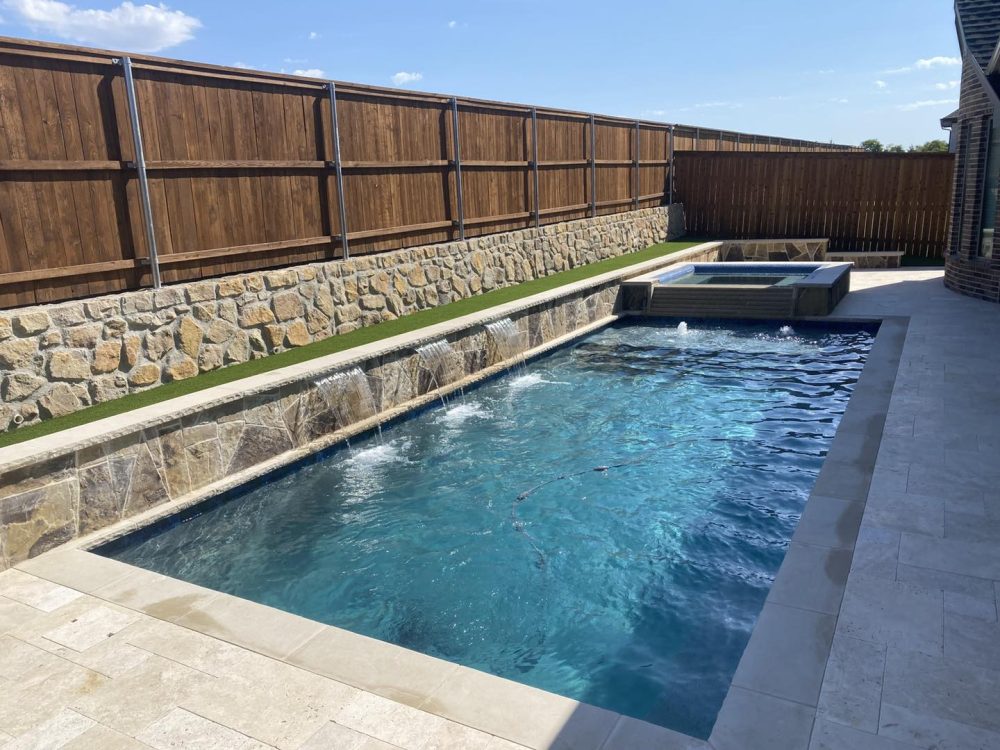 Is your existing pool in need of a facelift? Our Fate pool remodeling services can transform your outdated or worn-out pool into a stunning masterpiece. Whether you want to update the surface, add water features, improve energy efficiency, or enhance safety measures, we have the expertise to revitalize your pool and make it the focal point of your outdoor space once again.
Types of Custom Pools
There are many custom pool options available, and every pool can be further customized with features such as waterfalls, slides, fountains, lighting, and more, to suit your specific preferences and create a unique outdoor oasis.
Infinity Pools: Also known as vanishing edge pools, these pools create the illusion of water extending to the horizon. They feature one or more edges that blend seamlessly with the surrounding landscape, giving a stunning visual effect.
Geometric Pools: Geometric pools are characterized by clean lines and sharp angles. They often have rectangular or square shapes, offering a modern and contemporary aesthetic. Geometric pools are versatile and can be customized to fit different sizes and design preferences.
Freeform Pools: Freeform pools are designed to mimic natural bodies of water like lagoons or ponds. They have irregular shapes with flowing curves, creating a more organic and relaxed atmosphere. Freeform pools are ideal for creating a tropical or oasis-like setting.
Lap Pools: Lap pools are long and narrow, primarily built for swimming laps and exercise. They are typically rectangular in shape and have a consistent depth throughout. Lap pools are great for fitness enthusiasts or homeowners with limited space.
Plunge Pools: Plunge pools are small, shallow pools designed for cooling off and relaxation. They are perfect for compact spaces or as an addition to larger pools. Plunge pools can feature jets for hydrotherapy and are often combined with spas or hot tubs.
Perimeter Overflow Pools: Perimeter overflow pools, also known as perimeter edge pools or knife-edge pools, have water overflowing the edges into a catch basin or trough. This creates a sleek and dramatic effect, as if the pool is flush with the deck or surrounding area.
Natural Pools: Natural pools, also called eco pools or swimming ponds, are designed to resemble natural bodies of water. They incorporate elements like rock formations, waterfalls, and aquatic plants to create a self-regulating ecosystem. Natural pools offer a more environmentally friendly and chemical-free swimming experience.
Spools: A combination of a spa and a pool, spools are compact and versatile. They provide the best of both worlds, allowing you to relax in warm water like a spa or cool off with a swim. Spools are an excellent choice for homeowners with limited space or those who desire a multifunctional pool.
Why Choose Texas Outdoor Oasis
Experience and Expertise: With years of experience in the industry, our team has the knowledge and skills to handle projects of any scale and complexity. We stay up-to-date with the latest trends, technologies, and construction techniques to deliver outstanding results for your Fate home.
Customization: We understand that every homeowner has unique preferences. That's why we prioritize customization, tailoring our designs and services to suit your specific requirements. Your satisfaction is our top priority, and we strive to exceed your expectations at every step of the process.
Quality Craftsmanship: We take pride in our craftsmanship and attention to detail. From the selection of high-quality materials to the precision of our construction work, we ensure that your pool is built to withstand the test of time and provide years of enjoyment.
Customer Satisfaction: Our commitment to exceptional customer service sets us apart. We value open communication, transparency, and collaboration, keeping you informed and involved throughout the project. Your satisfaction is our ultimate goal, and we aim to make the entire process smooth and enjoyable.
Fate Full Service Outdoor Living Contractor
An amazing pool or spa can be the centerpiece of your backyard. At Texas Outdoor Oasis, we can craft an entire outdoor living space around your pool. Want a covered patio or pergola for entertaining? An outdoor kitchen for backyard barbecues? A fireplace or firepit for year-round enjoyment? The perfect landscaping to transport you to your own private paradise? We can do all of that and more. Let us design the outdoor space you've always wanted. Some of our additional outdoor living services include:
In Fate, TX & Beyond
What Our Satisfied Clients Are Saying
Quality Custom Pool Building & Remodeling
Our team of experienced professionals understands the unique beauty and demands of the Texas landscape, ensuring that every project is tailored to withstand the elements while exuding style and elegance. We value open communication and collaboration, partnering closely with you to bring your vision to reality. Trust Texas Outdoor Oasis for unmatched craftsmanship, exceptional service, and an awe-inspiring outdoor living experience for your Fate, TX home.